Britain will identify Russia as an "active threat" and China as a "systemic challenge" in the largest foreign, security and defense policy review since the Cold War.
Dominic RaabThe Foreign Secretary told Sky News Tuesday that the UK would take a "calibrated approach" to dealing with Beijing, balancing the desire to trade with a growing superpower against the need to advocate for human rights and other values Fundamental to the world are democracies.
"We will never give in and never give up on standing up for our values," he said.
Image:
Dominic Raab said Britain "will never give up standing up for our values".
The 100-page integrated review will reveal a plan to increase the cap on the number of nuclear warheads held by Britain by more than 40%, ending a period of gradual reduction since the collapse of the Soviet Union.
This will also signal a shift in British foreign policy towards the Indo-Pacific, although security in Europe will remain a key priority.
In addition, according to newspaper reports, a warning is expected of a "realistic possibility" that a terrorist group will launch a successful chemical, biological, radiological or nuclear attack in the next decade.
The review – Global Britain in a Competitive Age – contains a vision for Britain's place in the world by 2030 amid heavy criticism of a significant cut in its spending on foreign aid, seen as a core part of Britain's soft power.
The document is expected to contain a commitment from Boris Johnson to bring back spending on foreign aid from 0.5% to 0.7% of national income "if the budgetary situation permits".
Mr Raab declined to comment on details of an increase in nuclear warheads before the review was released later Tuesday morning. Boris Johnson will present his conclusions to Parliament.
However, the Foreign Minister said: "We have always said that we will maintain a credible minimum deterrent – that is the ultimate insurance policy for the safety of the people of this country."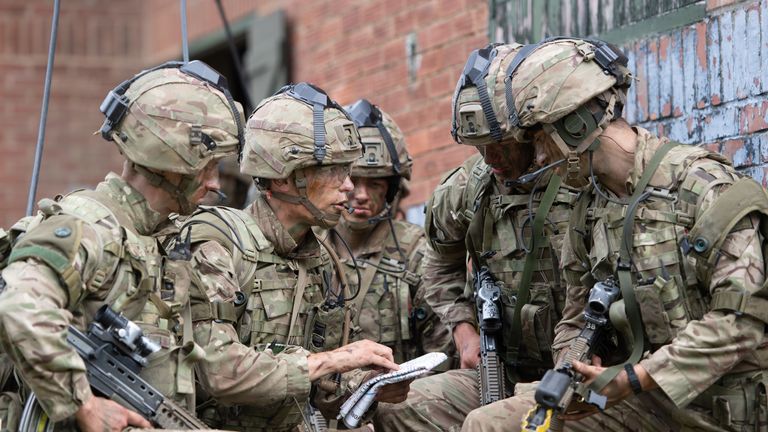 Image:
Officer cadets participating in a training exercise
Combating climate change and conserving biodiversity will be a top international priority for the UK for the next decade.
The review will also reveal an "indo-Pacific bias" focused on diplomacy and trade but will bring the Royal Navy's aircraft carrier HMS Queen Elizabeth to the region on its first operational deployment.
The Prime Minister will be traveling to India next month for his first major international visit since Brexit.
On the eve of the official announcement, leaked details about the content emerged, including how Russia under President Vladimir Putin is clearly referred to as an "active threat".
The language around China is expected to be more nuanced.
Beijing is referred to as a "systemic challenge". This refers to China's authoritarian system over the democratic system favored by Britain and its allies.
The Times reported, however, that the review also describes China as "the greatest government threat" to Britain's economic security, finding that the country's military modernization and growing assertiveness pose an "increasing risk to Britain's interests" become.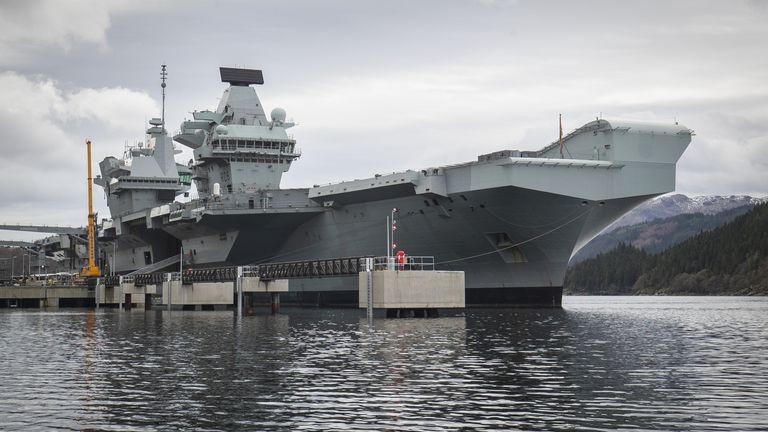 Image:
HMS Queen Elizabeth is currently visiting western Scotland for the first time
Mr Raab said the UK needs to be "very clear" on China.
The country "is here to stay, it is a disproportionately large and growing economic power. Of course, jobs in this country depend on it, we want to keep acting and investments are important," he said.
"At the same time, we will never do anything that threatens the integrity of our infrastructure, our telecommunications or the like."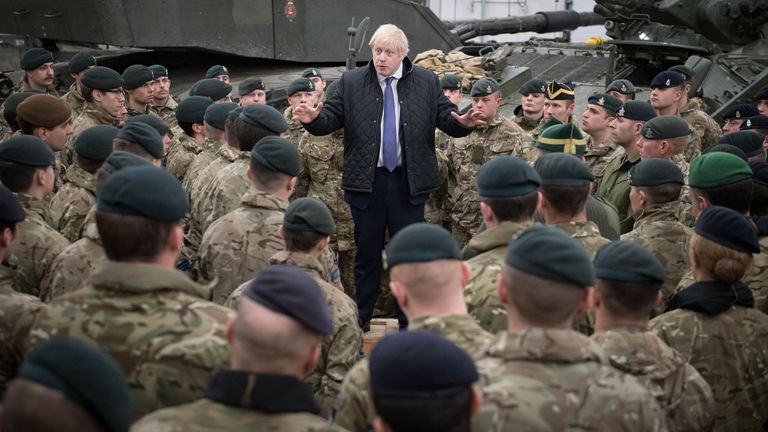 Image:
Boris Johnson speaks to troops in 2019
He said the UK, which will host a UN summit on climate change this year, needs to look to China if it is to bring the world together to address challenges such as climate change.
But he also said London would continue to challenge Beijing on issues such as the treatment of Uighur Muslims and other minorities in Xinjiang Province and crackdown on pro-democracy activists in Hong Kong.
"That obviously takes a calibrated approach if you like China, but we want a positive relationship where it is possible, but we will never give in and we will never give up on standing up for our values," he said.
According to the Guardian, the number of nuclear warheads Britain is allowed to store in relation to nuclear weapons will increase from 180 to 260. Sky News understands that this number is correct.
Such a move will spark an angry response from the Scottish National Party, which opposes renewing Britain's nuclear deterrent.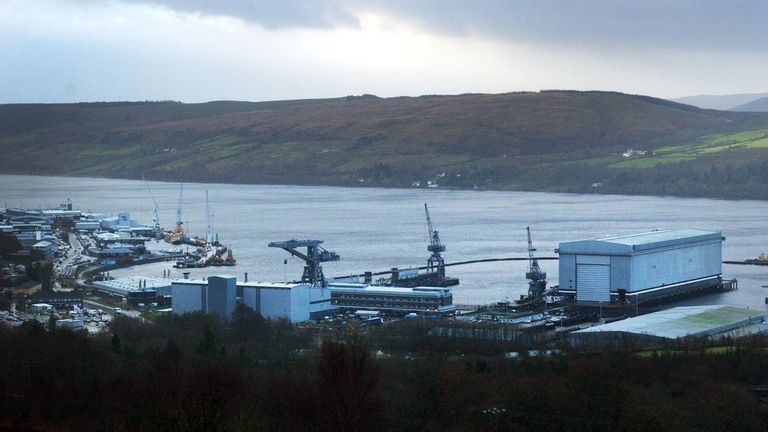 Image:
Faslane Nuclear Base, home of the Trident nuclear submarines. File image
In other details, which have been officially tracked by the government rather than leaked, a Whitehouse-style "Situation Center" is being set up in the Cabinet office to respond to future crises and learn from lessons from the COVID. Pandemic fall back.
There will also be a counter-terrorism operations center, which will further bring together the work of the police, intelligence services and legal experts in the fight against terrorism and also against hostile foreign states.
The review sets out how Britain will help shape an "open international order" in support of democracies, recognizing that the old rules that have shaped global relations and security since the end of World War II are out of date .
Subscribe to the Into The Gray Zone podcast on Apple Podcasts, Spotify, Spreaker
This will be based on a "new government foreign policy with increased international activism", working with allies and "using all the tools at our disposal to create a more open international order in which democracies flourish".
Improving new technology to give the UK an edge is also seen as key.
The full document was released after the Prime Minister announced last November the largest increase in defense spending since the Cold War. The armed forces have been allocated an additional £ 16.5 billion over four years.
It was also decided to merge the Foreign Office and the Department for International Development into the Foreign Office for Commonwealth and Development.